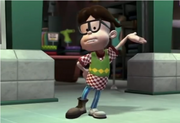 "My Clothes Don't Match" Kid was a kid who's clothes didn't match in public when the kids of Retroville were running a muck when their parents were kidnapped by the Yokians in Jimmy Neutron: Boy Genius. He also seen in various other scenes in the movie.
He appeared again in The Adventures of Jimmy Neutron: Boy Genius: Attack of the Twonkies where he and another kid were surrounded by Stompers and Jimmy had to save them.
Quotes
"MY CLOTHES DON'T MATCH! MY CLOTHES DON'T MATCH! I'M OUT IN PUBLIC AND MY CLOTHES DON'T MATCH!"
"Hey Jimmy, D'you think we can rotate shifts after a while?"
Ad blocker interference detected!
Wikia is a free-to-use site that makes money from advertising. We have a modified experience for viewers using ad blockers

Wikia is not accessible if you've made further modifications. Remove the custom ad blocker rule(s) and the page will load as expected.