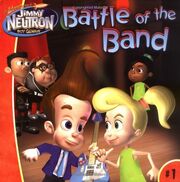 Battle of the Band is an book based on the episode of the same name.
Summary
Jimmy, Carl, and Sheen band together against Cindy and Libby to win the talent contest at Retroville Elementary School. But when each boy fights for the spotlight, will the trophy slip through their fingers? Find out in this rock 'n' roll adventure!
Ad blocker interference detected!
Wikia is a free-to-use site that makes money from advertising. We have a modified experience for viewers using ad blockers

Wikia is not accessible if you've made further modifications. Remove the custom ad blocker rule(s) and the page will load as expected.