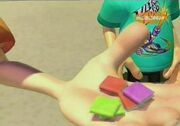 In the episode Birth of a Salesman, Book Gum is Jimmy Neutron latest invetion. This grants the knowledge of books. Not only do the books grant knowledge of books, but the chewer reinacts the story. But when more than one book gum is risky, for it causes literature overload. Jimmy invents Book Gum by reducing the contents of different books to gum form.
The appearance of the gum looks like little books.
Appearance in Birth of a Salesman
Sheen Estevez takes a piece and tasted it and remarks that it taste fishy before quoting Moby-Dick. Cindy Vortex tastes a piece that tastes like fried chicken before quoting from Gone with the Wind. Carl Wheezer, after being warned of the risk of eating more than one Book Gum at a time, tasted a strong-flavored piece and quote Romeo and Juliet.