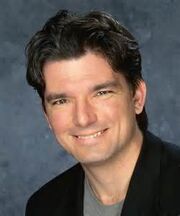 Butch Hartman is a American voice actor the voice of the Banjo Playing Boy at the series The Adventures of Jimmy Neutron: Boy Genius.
About
Also, he is an American animator, writer, director, producer, illustrator and voice actor, best known for creating Danny Phantom, T.U.F.F. Puppy and the Emmy-winning animated series The Fairly OddParents, and he worked with John A. Davis for the special TV movie Jimmy Timmy Power Hour.
Looks like one of Jimmy Neutron's incomplete inventions A.K.A a Stub.
You can help Jimmy Neutron Wiki by expanding it.
Ad blocker interference detected!
Wikia is a free-to-use site that makes money from advertising. We have a modified experience for viewers using ad blockers

Wikia is not accessible if you've made further modifications. Remove the custom ad blocker rule(s) and the page will load as expected.