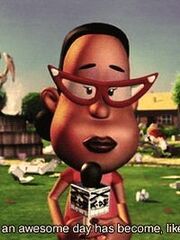 Courtney Tyler is a girl who lives in Retroville and attends at Lindbergh Elementary School.
In the movie, she served as a news reporter (possibly one of her parents is a reporter). She also appears to be Brittany, Libby and Cindy's friend. She appears to be in many episodes of the TV Series, without any big dialogue. Her voice actor is Kimberly Brooks.
Quotes
"I want my mommy too!" - JNBG movie as a reporter for the news.
Gallery
Ad blocker interference detected!
Wikia is a free-to-use site that makes money from advertising. We have a modified experience for viewers using ad blockers

Wikia is not accessible if you've made further modifications. Remove the custom ad blocker rule(s) and the page will load as expected.