"Prefessor Dean Kane"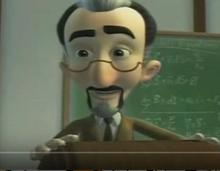 of Pomona School of Advanced Physics, or SAP (his name is a parody of actor Dean Cain or less likely Dean Kamen). He was often distraught of Jimmy's invention wrecking the school. He even expelled him forstreaking naked during Mrs. Moran's visit. However, he soon discovers Seymour was behind the unstable molecule attack. The Dean becomes eternally grateful to Jimmy. He also lets him and his friends throw a wild college dance party. appears in Jimmy Goes to College. He is voiced by Tom Kane
Ad blocker interference detected!
Wikia is a free-to-use site that makes money from advertising. We have a modified experience for viewers using ad blockers

Wikia is not accessible if you've made further modifications. Remove the custom ad blocker rule(s) and the page will load as expected.