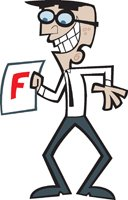 Denzel Quincy Crocker is the mentally unstable school teacher of Timmy Turner and, like Vicky, is one of the secondary main antagonists in the show. He first appeared in the hour - long special Jimmy Timmy Power Hour. When Jimmy was About to go home using the GameBuddy and the Magic poofer crocker came in and stole it and went to Fairy World. later, he stole some fairy equipment and took over Fairy World. Timmy persuaded Jimmy to fight back. so he, with the inventions at the science fair and his brain, stopped Mr. Crocker. Later to make sure Mr. Crocker lost his memory of Fairy World, Jorgen (in shnowzer form) "reconfigured" his brain.
The only other time Mr. Crocker was a main villain in the video game, Nicktoons Unite!, as 1 of the members of the Evil Syndicate.
Denzel Crocker is voiced by
Carlos Alazraqui
.
External links