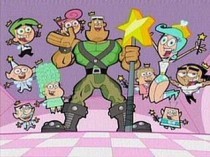 Fairies are magical beings who grant wishes to miserable children on Earth. They all reside in Fairy World and are ruled by The Fairy Council. The main characters in the Jimmy Timmy Power Hours are Cosmo and Wanda. The power in Fairy World was almost depleted, but thanks to Jimmy Neutron, they were able to stop Mr.Crocker.
Exteral Links
Ad blocker interference detected!
Wikia is a free-to-use site that makes money from advertising. We have a modified experience for viewers using ad blockers

Wikia is not accessible if you've made further modifications. Remove the custom ad blocker rule(s) and the page will load as expected.