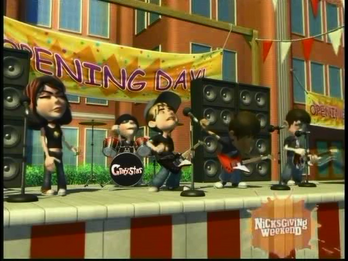 Graystar is Libby's favorite band and very popular in Retroville. They are college students in Jimmy Goes to College. They also have a cameo appearance in the episode "Incredible Shrinking Town". They are seen in the background as Butch and Nick are picking for basketball team members at the beginning. The Copbot is a huge fan of theirs.
They appear in Attack of the Twonkies, The Tomorrow Boys, Jimmy Goes to College, and The Incredible Shrinking Town. When they are attacked by Twonkies, they are not suprised as they "play at a lot of colleges".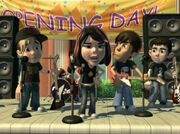 They are portrayed the actual Graystar from Albany, New York. They met the president of Nickelodeon and showcased her some songs, which she enjoyed and then had them animated in Jimmy Neutron. Graystar is a post-hardcore/rock/punk band that enjoys changing rythms and intricate guitar work. Each song includes hard rock with a political and social edge, which are known as trademarks of the band.They have quite a bit of professional experience and have performed as an opening band for other bands, such as The Used, Finch, Story Of The Year, Bosstones, and Good Charlotte. The band has done Warp Tour shows and Skate & Surf.