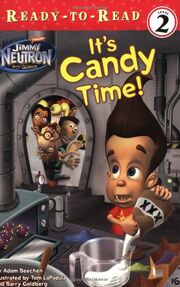 It's Candy Time! is a Jimmy Neutron book based on the episode Krunch Time.
Summary
Jimmy invents a candy with all the best flavors. His candy proves to be a hit at school and all around town! But things begin to turn sour when Jimmy's friends and neighbors show up in the middle of the night demanding more candy. Will Jimmy be able to appease Retroville's sweet tooth?
Ad blocker interference detected!
Wikia is a free-to-use site that makes money from advertising. We have a modified experience for viewers using ad blockers

Wikia is not accessible if you've made further modifications. Remove the custom ad blocker rule(s) and the page will load as expected.