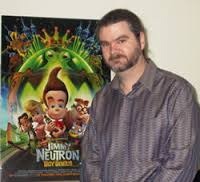 John A. Davis is an animation filmmaker and co-creator of Jimmy Neutron.
He originally came up with the idea during the 80's and wrote it down under the title Runaway Rocketboy (which later became the series pilot) which he later found sometime during the 90's while moving out of his old house. He later presented his character (at that time named Johnny Quasar) to SIGGRAPH where he met Steve Oedekerk and Keith Alcorn. 
In 2001 he wrote and directed Jimmy Neutron: Boy Genius which later spun-off to a television series called The Adventures of Jimmy Neutron.
Davis resigned from production of Jimmy Neutron in January 2003 to work on The Ant Bully. He gave his position away as Executive in charge of production to Steve Oedekerk.
He also wrote an directed Santa vs. the Snowman.
He was co-founder and owner of DNA Productions which closed in 2006.
Filmography
Producer
Writer
Jimmy Neutron: Boy Genius (2001)
The Adventures of Jimmy Neutron (2002-2006)
Planet Sheen (2010-2013)
Director
Jimmy Neutron: Boy Genius (2001)
Ad blocker interference detected!
Wikia is a free-to-use site that makes money from advertising. We have a modified experience for viewers using ad blockers

Wikia is not accessible if you've made further modifications. Remove the custom ad blocker rule(s) and the page will load as expected.