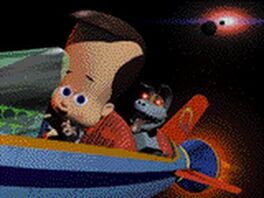 Johnny Quasar
 was the prototype of 
Jimmy Neutron,
produced in 1995.
Information
This early incarnation of Jimmy Neutron was produced in 1995 and was pitched at SIGRAPH 1995. John. A. Davis produced a short film of the character in early 1995. A few screenshots and even a 7 second clip on YouTube has been uploaded by various users. The clip can be found on DNA Productions website using Internet Archive. Some more concept art can be found in the book "Not Just Cartoons We're Nicktoons". At SIGRAPH 1995 He met Steve Oedekerk who expressed interest in the project. Around 1997 DNAhelix.com (DNA Productions Website) updated their website renaming the Johnny Quasar page to Jimmy Neutron: Boy Genius.
Trivia
A screenshot of Johnny Quasar's original family can be found in the Nicktoons book. 
Out of all the versions of Jimmy, Johnny has the biggest forehead.
The 7 second clip features Johnny Quasar introducing himself and his dog Goddard.
The website featuring the page in 1996 was called Johnny Quasar: Boy Genius.
At the "Happy Happy Joy Joy" exhibit, a maquette of Johnny Quasar is seen.
Ad blocker interference detected!
Wikia is a free-to-use site that makes money from advertising. We have a modified experience for viewers using ad blockers

Wikia is not accessible if you've made further modifications. Remove the custom ad blocker rule(s) and the page will load as expected.