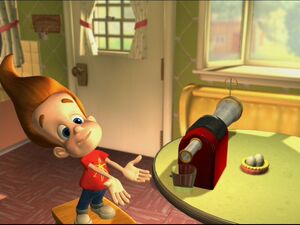 'J'uiceBot 3000 is Jimmy's invention seen in Normal Boy. It was supossed to attract oranges into the tube and juice would come out the other end, however when it was activated, the reverse switch was accidently activated and it started sucking in kitchen supplies and tools.
Looks like one of Jimmy Neutron's incomplete inventions A.K.A a Stub.
You can help Jimmy Neutron Wiki by expanding it.
Ad blocker interference detected!
Wikia is a free-to-use site that makes money from advertising. We have a modified experience for viewers using ad blockers

Wikia is not accessible if you've made further modifications. Remove the custom ad blocker rule(s) and the page will load as expected.