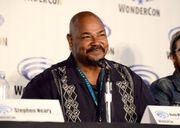 Kevin Michael Richardson (born October 25, 1964) is an American actor, voice artist, and comedian who is well known for his wide variety of deep voice work since the early 1990s. He played Morgan Freeman and Anti-Fairies. He even played Antauri in SRMTHFG and the Shredder in TMNT. He was originally going to voice King Goobot V in Jimmy Neutron: Boy Genius.
Ad blocker interference detected!
Wikia is a free-to-use site that makes money from advertising. We have a modified experience for viewers using ad blockers

Wikia is not accessible if you've made further modifications. Remove the custom ad blocker rule(s) and the page will load as expected.