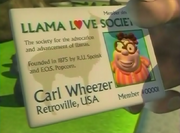 The
Llama Love Society
is an international group of Llama lovers. So far, there are only two members, Carl Wheezer and Elke Elkberg as shown below.  Each member owns a card with their image, a picture of a llama, and personal data.
There was supposed to be a season four episode where Jimmy, Sheen and Goddard help Carl recruit more members, but that season sadly never came to be.
Known Members
Carl Wheezer (United States)
Elke Elkberg (Sweden)
Looks like one of Jimmy Neutron's incomplete inventions A.K.A a Stub.
You can help Jimmy Neutron Wiki by expanding it.
Ad blocker interference detected!
Wikia is a free-to-use site that makes money from advertising. We have a modified experience for viewers using ad blockers

Wikia is not accessible if you've made further modifications. Remove the custom ad blocker rule(s) and the page will load as expected.