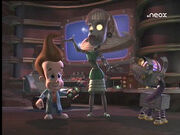 Maternotron
was
Jimmy
's temporary replacement robot mother, so he may skip his chores Judy said he and Hugh had to do while she was at a spa. This robot first and only appears in "
Maternotron Knows Best
" and, of course, highly resembles
Judy
, Jimmy's mother. It resembles his mother but with a more metallic and robotic personality and appearance.
Maternotron was voiced by Megan Cavanagh.