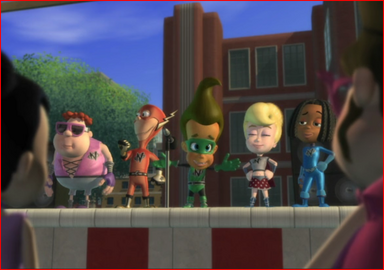 The N-Men (N for Neutron) is the name Jimmy and his friends took after having superpower in the episode with the same name.
This group consists of Vibrating Lad (Sheen), Burp Boy (Carl), Hulk Jimmy (Jimmy), Special Girl (Cindy), and Invisible Sista (Libby).
Members
The known members:
Powers
Hulk Jimmy: Incredible super strength, invulnerability, super leaping, rage roar, fruti-scent
Vibrating Lad: Super speed, super vibration
Burp Boy: Sonic burping shockwaves
Special Girl: Super strength, flight, telescopic vision, durability
Invisible Sista: Invisibility, force field generation
Trivia
The first name suggested for this team was "The Fantastic League of Justice-Bringing Avenging Men... and two Girls!" by Sheen.
Some of the N-Men's powers reappeared in The League of Villains.
The group is a parody of Marvel Comics' X-Men, Fantastic Four, and to a lesser extent, the Avengers as well as DC Comics' Justice League.
Hulk Jimmy would've returned in League of Villains had Carl not dropped Jimmy's packet.