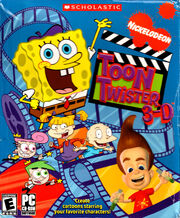 Nickelodeon Toon Twister 3-D
is a video game released in 2003 for PC with which the player can create their own 3D cartoons using several
Nickelodeon
characters and scenes.
The game features unique sound clips, animations, and scenes which the player may use to construct simple videos. Movies can be created using an in-game timeline and editing tools. To make characters talk though, it would be from pre-rendered sentences, or from a USB Microphone.
Characters
SpongeBob SquarePants characters
Jimmy Neutron characters
The Fairly OddParents! characters
Rugrats characters
Trivia
There is another game like this that was released in the 1990's with no SpongeBob in it. The game is called Nickelodeon 3D Movie Maker.
This video game was released 13 years before the premiere of the episode "Whirly Brains".
Ad blocker interference detected!
Wikia is a free-to-use site that makes money from advertising. We have a modified experience for viewers using ad blockers

Wikia is not accessible if you've made further modifications. Remove the custom ad blocker rule(s) and the page will load as expected.