Planet Sheen is an American CGI animated spin-off of The Adventures of Jimmy Neutron: Boy Genius focusing on Sheen, created by Keith Alcorn and Steve Oedekerk and produced by O Entertainment. It has been picked up for 26 episodes by Nickelodeon.
Synopsis
After sneaking into Jimmy's lab and finding his top-secret rocketship, Sheen accidentally blasts himself into outer space! four million and one light years away, Sheen crash-lands on Zeenu -- a strange planet inhabited by purple aliens called Zeenuians. After using their bathroom, Sheen wants to go home, but his rocketship got smashed in the crash, and it's his only ride.
Meanwhile, an evil villain named Dorkus is super mad that Sheen destroyed his house in the crash, and he's bent on destroying the pesky Earth boy! Luckily, Sheen makes a ton of new friends on Zeenu, including Doppy, Emperor and Mr. Nesmith. Will Sheen survive the evil plots of Dorkus and repair his rocket so he can get back to Earth before anyone notices he's gone?
Production
After the success of the original series, John, Keith and Steve teamed up to create a spinoff. The trio found inspiration from various oddball sources including Michael Nesmith of The Monkees. In Planet Sheen, the chimp, Mr. Nesmith, wears a wool hat with a ball on top, just like the real Nesmith in his old TV series. 
There was also supposed to be a TV movie that focused on Jimmy, Carl, Libby, Cindy and Goddard going to rescue Sheen, while at the same time, feature Sheen and Nesmith's journey back to Earth. Due to low ratings, the whole idea was scrapped.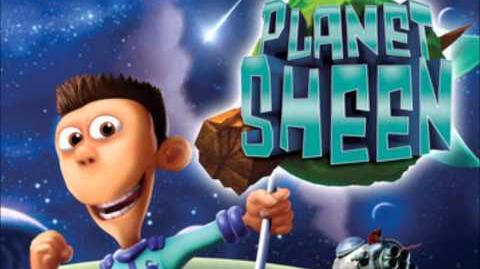 Voice cast
Episodes
Main article: List of Planet Sheen episodes
Trivia
Gallery