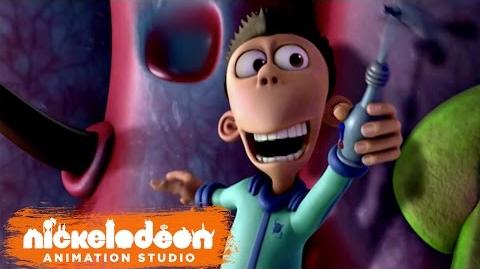 The Planet Sheen theme song first appeared in the series' second episode.
Lyrics
Sheen: Sheen, Do Not Push This Button!
Dogs like cheese, cows like monkeys! Planet Sheen is oh, so funky!
Sheen: Okay, I get the last part, but the first few lines, you're just off bro!
Skateboards rock! Shoes like feetsies, you are watching Planet Sheensies
Sheen: Okay, okay, it's not called "Planet Sheensies"
Sheen!
Dance!
Sheen! (Doppy: You know what they say Sheen; it ain't par-tay until somebody breaks a tongue! Check!)
Sheen!
Sheen: That's just creepy
Tuna noodle casserole!
Sheen: Pomegranate stew
Stranded on a planet...
Sheen: Whatcha gonna do?
Change your name to Larry?
Sheen: Rub bacon on the queen...
All: It all makes perfect sense on...
PLANET SHEEN!