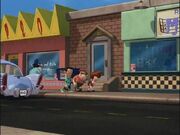 Retroville
is the city where the franchise is set. In the episode
Stranded
, there is a scene where Jimmy and his friends take off in the Hover Car for a trip to the equator. Following an argument between Cindy and Jimmy and a comment from Libby about how their disputes happen solely to hide their true feelings, a map animation that shows the hovercar's route can easily be traced back almost precisely to Austin, Texas. Looking at Jimmy's watch you can see that Retroville time is 12:00 and so is Chicago time, which suggests that Retroville is located in the central standard time zone. The phone number of the Candy Bar, as shown by a receipt, has a 985 area code, which is located in southern Louisiana.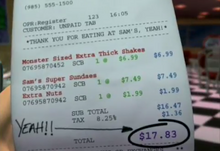 Retroville is near a downtown area (as a possible reference to Sugar Land next to Houston). The city imposes a 4% tax rate, as seen on Mr. Giggle's invoice in the episode
Hypno-Birthday To You.
Places
Trivia
Retro refers to old trends that have regained popularity once again, it is seen in some buildings and cars with 1940's, 1950's , and early 1960's style, and the towns Candy Bar seems to have a 1950's style design.
Retroville has an emergency siren system, probably built during the cold war, that sounds whenever the city is in danger. The sirens go off in "Win, Lose and Kaboom" when a meteor hurtles toward Retroville.
Retroville is located in Texas.
Ad blocker interference detected!
Wikia is a free-to-use site that makes money from advertising. We have a modified experience for viewers using ad blockers

Wikia is not accessible if you've made further modifications. Remove the custom ad blocker rule(s) and the page will load as expected.