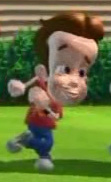 Romantic Jimmy was created as a clone of Jimmy along with five others by Jimmy himself. As each clone was given a specific chore, Romantic Jimmy's chore given was to give a book back to Mrs. Vortex . However, as she was not home, this clone decided to sing infront of Cindy Vortex as he shared Neutron's "love" for her. This made Cindy faint for a few seconds. Like all the other clones, Romantic Jimmy was frozen in ice at the end of the episode "Send in the Clones ".
Trivia
Cindy was delighted by this clone's song of her. However, after she was going to say "he made my heart sing and..." she lied complaining that "I mean, he said things to me so violent and despicable I can not repeat them!"
He looks exactly like Jimmy himself, except he has a short mustache and a french accent.
His hair style is the same as Jimmy's in the episodes Lady Sings the News and Love Potion 976/J.
He was voiced by Rob Paulsen.
Ad blocker interference detected!
Wikia is a free-to-use site that makes money from advertising. We have a modified experience for viewers using ad blockers

Wikia is not accessible if you've made further modifications. Remove the custom ad blocker rule(s) and the page will load as expected.