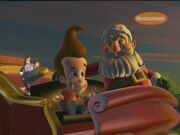 Santa Claus is the famous holiday figure, who is a genius, just like Jimmy. Because of Jimmy's machine, he was injured. Santa also stated that Jimmy was on his "Naughty" list for some time. Santa only appeared in the episode, "Holly Jolly Jimmy".
Trivia
In this episode, he was the one to have a brain blast, rather than Jimmy.
Ad blocker interference detected!
Wikia is a free-to-use site that makes money from advertising. We have a modified experience for viewers using ad blockers

Wikia is not accessible if you've made further modifications. Remove the custom ad blocker rule(s) and the page will load as expected.