Sheldon is the store clerk of the Retroville game store. He appears in Grumpy Young Men where he told Jimmy, Carl, and Sheen that the game Doom Bringer II is for mature players only and kicked them out of the store. He appeared again in The Incredible Shrinking Town where in Jimmy's daydream he told him he should go to the Little Tikes section for pants. His name is shown on his red shirt.
He is voiced by Mark DeCarlo.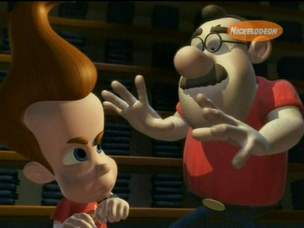 Ad blocker interference detected!
Wikia is a free-to-use site that makes money from advertising. We have a modified experience for viewers using ad blockers

Wikia is not accessible if you've made further modifications. Remove the custom ad blocker rule(s) and the page will load as expected.