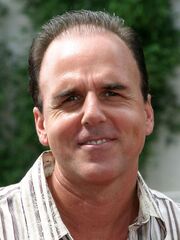 Steven "Steve" Oedekerk (born November 27, 1961) is an American stand-up comedian, actor, director, producer, writer, and voice-over artist, known as the co-creator of Jimmy Neutron with Keith Alcorn and John A. Davis. He is best known for being creator of Thumbmation shorts.
Oedekerk met John Davis at SIGGRAPH in 1995 and told Oedekerk about his character, Jimmy Neutron (at that time named Johnny Quasar). He served as writer and producer on Jimmy Neutron: Boy Genius in 2001.
He served as Executive in charge of production on The Adventures of Jimmy Neutron. Back at the Barnyard
From 2010 to 2013, Oedekerk served as creator and executive producer on Planet Sheen.
Oedekerk also served as creator and producer on Santa vs. the Snowman.
He is the founder and owner of his own production company O Entertainment, which produces both live-action and animated projects.
Ad blocker interference detected!
Wikia is a free-to-use site that makes money from advertising. We have a modified experience for viewers using ad blockers

Wikia is not accessible if you've made further modifications. Remove the custom ad blocker rule(s) and the page will load as expected.