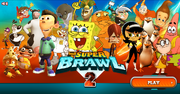 Super Brawl 2 is an online game on the official website for Nickelodeon.
There are four different modes in the game: The arcade, where the player may customize the brawl by choosing opponents and the stage; the Tournament mode, the player must fight through opponents to win; the Tag Team mode, where player has a partner to help him/her in the brawl; and  the Survival mode, where the player must defeat lots of opponents until he/she is knocked out.
Playable
Starter
Stages
Baseball Field
School
Amity Park
Coney Island Hideout
Gallery
External Links
Ad blocker interference detected!
Wikia is a free-to-use site that makes money from advertising. We have a modified experience for viewers using ad blockers

Wikia is not accessible if you've made further modifications. Remove the custom ad blocker rule(s) and the page will load as expected.