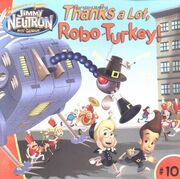 Thanks a Lot, Robo-Turkey! is a Jimmy Neutron book set during Thanksgiving.
Summary
Miss Fowl asks her class to participate in the Thanksgiving parade. Nobody's very excited, since Jimmy and Cindy have to be pilgrims and Carl has to be a turkey! So, Jimmy decides to jazz things up by inventing a robotic turkey float. All goes well until Robo-Turkey malfunctions and things get a little too exciting!
Ad blocker interference detected!
Wikia is a free-to-use site that makes money from advertising. We have a modified experience for viewers using ad blockers

Wikia is not accessible if you've made further modifications. Remove the custom ad blocker rule(s) and the page will load as expected.