The Adventures of Jimmy Neutron: Boy Genius
Talk

0
The Adventures of Jimmy Neutron: Boy Genius
Format
Animated television series
Created by
John A. Davis
Country of origin
United States
No. of seasons
3
No. of episodes
61
Production
Executive producer(s)
Steve Oedekerk
Distributor
Nickelodeon Network
Broadcast
Original channel
Nickelodeon (United States)
Original Air Date
September 10, 1998 (pilot)
September 6, 2002-November 25, 2006 (series)
Chronology
Preceded by:
Jimmy Neutron: Boy Genius
Followed by:
Planet Sheen
The Adventures of Jimmy Neutron: Boy Genius is an American television series, based on Jimmy Neutron: Boy Genius. The series uses the same main characters as the film and follows the life of Jimmy Neutron and his best friends Carl Wheezer, Sheen Estevez, Goddard, Cindy Vortex and Libby Folfax.
The series first aired in mid-2002 and the last episode aired in late 2006. The series has 3 seasons and several television films. The series was critical acclaimed with viewers and TV critics praising its characters and animation.
On October 2, 2010, a new show called Planet Sheen became the new spin-off. It focused on Sheen Estevez. Jimmy Neutron was mentioned in the first episode. It was cancelled on February 15, 2013.
It has also been confirmed that Jimmy Neutron might be REVIVED by The Splat.
Episodes
Theme Song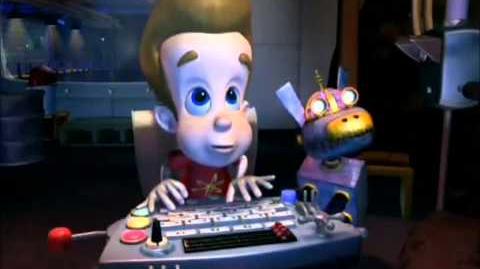 3... 2... 1...
Jimmy Neutron: Gotta blast!
From here to the stars, fueled by candy bars, rides a kid with the knack for invention
With a super-powered mind, a mechanical canine
Goddard: Bark, bark!
He rescues the day from sure destruction
This is the theme song
For Jimmy Neutron!
Reception
Since it's premiere date, Jimmy Neutron has become one of the most iconic Nicktoons of all time. To this day, it has remained one of the most popular franchises in Nickelodeon history.
Reviving the series
There were actually plans for a fourth season of the series and it would've featured many new things. There was going to be an episode where the kids fight one of Jimmy's old enemies on the moon and an episode where Cindy finally admits to Betty why she hates her. 
Throughout the season, the kids would've started seeing how much they needed each other, would become closer as a family and they would've come to terms with starting middle school and fifth grade ending while at same time encountering new and old villains. Jimmy and Cindy also would've finally stopped pretending to hate each other and become an official couple.
The fourth season was actually going to be more serious, emotional and dark than the other three seasons. There were four scripts finalized, but the producers kept them in secret until further notice.
There are also rumors about Nickelodeon creating a sequel series called, Jimmy Neutron: Re-Energized exculsively for Netflix and that the first eight 22 minute episodes were in the works. But since there were no other sources, it is believed to be a hoax. 
With a recent shake-up in Nickelodeon's executives and their new interest in reviving old materials, the writers might now be attempting to bring Jimmy back, but so far, there is no news about it. 
Trivia
The series had the most-watched television premiere on Nickelodeon at that time with 4.3 million viewers.
Originally, the show was called Johnny Quasar, Jimmy had a slight square head and was named Johnny instead of Jimmy.
Gallery