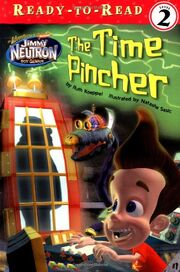 The Time Pincher is a Jimmy Neutron book based on the episode The Big Pinch.
Summary
Jimmy uses his special time machine to bring Thomas Edison to the present! But how is Jimmy going to get him back to the year 1899 before all the lights go out? Find out in this electrifying adventure!
Ad blocker interference detected!
Wikia is a free-to-use site that makes money from advertising. We have a modified experience for viewers using ad blockers

Wikia is not accessible if you've made further modifications. Remove the custom ad blocker rule(s) and the page will load as expected.