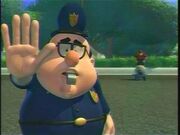 Officer Tubbs is the overweight, bald, nice, dimwitted police officer serving the City of Retroville.
Tubbs appears in "Jimmy on Ice," "Professor Calamitous, I Presume," "Holly Jolly Jimmy," "The Great Egg Heist", "The Incredible Shrinking Town", and "Who Framed Jimmy Neutron?."
Tubbs wears a police uniform and clear glasses.
Tubbs has black hair (although he is bald). He is voiced by Frank Welker.
He's seen out of uniform in a delivery truck in
Jimmy Timmy Power Hour
.
Ad blocker interference detected!
Wikia is a free-to-use site that makes money from advertising. We have a modified experience for viewers using ad blockers

Wikia is not accessible if you've made further modifications. Remove the custom ad blocker rule(s) and the page will load as expected.